Chainmail dresses are undoubtedly eye-catching and stylish, but choosing the right accessories to wear with them can be a challenge. Whether you're planning to wear a chainmail dress for a special event or a night out, the right accessories can take your look from good to great. In this post, we'll explore the best accessories to wear with a chainmail dress, from statement jewelry to shoes and bags. Whether you want to add some edge to your outfit or keep it chic and sophisticated, we've got you covered. So, let's dive in and discover how to style your chainmail dress like a pro!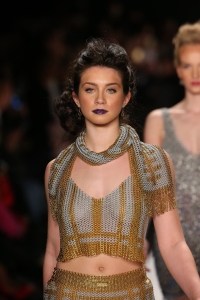 The Benefits of Wearing a Chainmail Dress
Chainmail dresses, also known as chainmail dresses, are garments made from interlocking metal rings. They were historically used as armor to protect soldiers in battle, but today they have become popular as fashion statements for both men and women. Here are some potential benefits of wearing a chainmail dress:
Durability. Chainmail dresses are known for their durability. The metal rings used to make them are strong and resistant to wear and tear. As a result, a well-made chainmail dress can last for years with proper care and maintenance.
Unique style. Chainmail dresses are a unique and eye-catching fashion choice. They are often worn at Renaissance fairs, cosplay events, or other occasions where historical or fantasy-themed clothing is appropriate. A chainmail dress can help the wearer stand out from the crowd and make a bold fashion statement.
Breathability. While chainmail dresses may look heavy and uncomfortable, they are surprisingly breathable. The open weave of the metal rings allows air to circulate freely, which can help keep the wearer cool and comfortable.
Versatility. Chainmail dresses can be worn in a variety of different ways. They can be paired with leggings or boots for a more casual look, or dressed up with heels and jewelry for a more formal event. They can also be layered over other clothing items for added warmth or protection.
It's worth noting that chainmail dresses can be heavy and cumbersome to wear, especially if they are not properly fitted. It's also important to take care when handling them, as the metal rings can be sharp and can snag on other fabrics or accessories. However, with proper care and attention, a chainmail dress can be a unique and exciting addition to any wardrobe.
Types of Accessories to Wear with a Chainmail Dress 
A chainmail dress is a bold and unique statement piece that can be worn for a variety of occasions. Here are some types of accessories that can be worn with a chainmail dress to complete the look:
Statement jewelry. A chainmail dress can be paired with bold statement jewelry to add some extra sparkle and shine to the outfit. Consider wearing a chunky necklace or a pair of statement earrings that complement the silver or metallic tones of the chainmail dress.
Belts. A chainmail dress can be cinched at the waist with a belt to create a more defined silhouette. A broad leather or metal belt can add some extra texture and dimension to the outfit.
Boots. Pairing a chainmail dress with knee-high boots can create a powerful and bold look. Consider wearing black leather or suede boots to create a contrast with the metallic tones of the dress.
Gloves. Adding a pair of gloves to a chainmail dress can create a more complete and cohesive look. Consider wearing fingerless gloves or gloves with metal accents to tie in with the chainmail.
Headpieces. A headpiece or a hair accessory can add some extra drama to a chainmail dress. Consider wearing a metal crown or a headband with metal accents to tie in with the overall theme of the outfit.
Cape or cloak. A chainmail dress can be paired with a cape or a cloak to create a more dramatic and regal look. Consider wearing a cape or a cloak with metallic accents or a bold color to create a contrast with the metallic tones of the dress.
Overall, the key to accessorizing a chainmail dress is to choose pieces that complement the metallic tones and the overall theme of the outfit. Mixing and matching different accessories can create a unique and personalized look that suits your style and personality.
Styling Tips for Chainmail Dresses
Although they can make a daring and stunning fashion statement, chainmail dresses could be difficult to style. The following advice can help you get the chainmail dress look:
Keep the rest of the outfit simple: Chainmail dresses are inherently eye-catching, so it's best to keep the rest of your outfit minimal. Pair your dress with simple, understated accessories and shoes to let the dress take center stage.
Choose the right undergarments: Chainmail dresses can be scratchy and uncomfortable, so it's essential to wear the right undergarments. Opt for seamless underwear and a slip to prevent any discomfort.
Mix and match textures: To add depth and interest to your outfit, consider mixing and matching textures. Pair your chainmail dress with a leather jacket or a fur coat for a chic contrast.
Add some edge with accessories: Chainmail dresses are often associated with a tough, edgy aesthetic, so it's natural to want to pair them with edgy accessories like studded belts, chunky boots, or statement jewelry. Just be careful not to overdo it; one or two bold accessories are usually enough.
Consider the occasion: While chainmail dresses can be worn for a variety of occasions, they're typically best suited for evening events or parties. Keep this in mind when styling your outfit, and opt for dressier accessories and shoes if you're wearing your chainmail dress to a formal event.
Experiment with layering: If you're feeling creative, try layering your chainmail dress over other garments, like a turtleneck or a silk blouse. This can add an unexpected twist to your outfit and help you stand out from the crowd.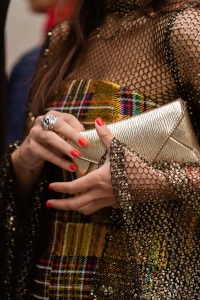 The Best Accessories to Wear with a Chainmail Dress
Accessorizing a chainmail dress can be tricky. On the one hand, you want to look stylish and fashionable, but on the other hand, you don't want to detract from the beauty of the dress itself. With the right accessories, however, you can bring out the beauty of your chainmail dress while creating a unique look that will make heads turn. Here are some of the best accessories to wear with a chainmail dress:
A Belt. Adding a belt to your outfit is an easy way to define your waistline and draw attention to your figure. A wide belt in a contrasting color will create an eye-catching look that will add visual interest to your ensemble.
Heels or Boots. Pairing your chainmail dress with heels or boots will give it a more modern feel. Choose a pair of sleek black boots or classic stilettos for a chic look that oozes style and sophistication.
Necklace. A necklace is another great way to accessorize your chainmail dress. For a more casual look, opt for something simple like a pendant necklace or choker. For something more formal, choose a statement piece like a pearl necklace or diamond choker.
Layered Bracelets. Layering bracelets is also a great way to add some sparkle and shine to your look. Choose several different styles in silver and gold tones for maximum impact.
Clutch Bag. The perfect finishing touch for any outfit is an elegant clutch bag. Choose one in metallic tones such as gold or silver for an extra touch of sophistication.
By carefully selecting pieces that enhance the beauty of your chainmail dress without overpowering it, you can create stunning looks that will make you stand out from the crowd. With these accessories, you can look chic and stylish while keeping all eyes on you!
Conclusion
When it comes to accessorizing a chainmail dress, it's important to remember that less is more. Show off the intricate details of the dress itself and choose subtle and tasteful accessories that will help to enhance its look. A long, delicate necklace and a pair of earrings with a dangle can add a touch of sparkle and glamour. Alternatively, you could opt for a statement bracelet to draw attention to your wrist. A small clutch bag to complete the ensemble will help to add an extra level of refinement and sophistication. Whether you're going for an edgy rock chic look or a more formal evening look, the right accessories will bring your chainmail dress to life.
Find your perfect dress today with Delourier
Are you looking for a chainmail dress that will suit best with your accessories? Ready to take your fashion game to the next level? Look no further than Delourier for your perfect chainmail dress. Our selection of stunning styles is sure to have something that suits your taste, whether you're looking for a sleek and simple design or a statement-making piece that's sure to turn heads. For more information and questions, you may call us on (702) 340-1474.
For more information on how https://delourier.com/ can help you on your Chainmail Dress, please contact us at (702) 340-1474, or visit us here:
7650 W Sahara Ave Unit 1, Las Vegas, NV 89117, United States
https://delourier.com/wp-content/uploads/2023/02/The-Best-Accessories-to-Wear-with-a-Chainmail-Dress-1.jpg
2121
1414
admin
https://delourier.com/wp-content/uploads/2022/09/DELOURIER-copy-2-300x81.png
admin
2023-03-06 01:44:27
2023-02-27 02:01:51
The Best Accessories to Wear with a Chainmail Dress